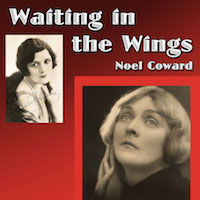 Waiting in the Wings
By Noel Coward
Set in "The Wings" charity home for retired actresses, Noel Coward's seemingly inconsequential piece is a wise and compassionate address of the problems of confronting old age.
'Waiting in the Wings' was Coward's fiftieth play. It premiered in 1960 and is set in a charitable retirement home for actresses in that era, over a period of several months. It focuses on a feud between elderly residents Lotta Bainbridge and May Davenport, who once both loved the same man.
Coward said of the play: "I wrote Waiting in the Wings with loving care and absolute belief in its characters. I consider that the reconciliation between 'Lotta' and 'May' in Act Two Scene Three, and the meeting of Lotta and her son in Act Three Scene Two, are two of the best scenes I have ever written. I consider that the play as a whole contains, beneath the froth of some of its lighter moments, the basic truth that old age needn't be nearly so dreary and sad as it is supposed to be, provided you greet it with humour and live it with courage."
"It's the most lovely modern play I've played….cruel, but awfully funny" Sybil Thorndike
| | |
| --- | --- |
| Directed By | Janet Harrison |
| Dates | 13 April 2016 to 16 April 2016 |
| Location | Compass Theatre, Ickenham, UB10 8PD |