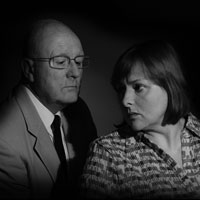 Death and the Maiden
By Ariel Dorfman
Set in an unnamed country that is, like the author's native Chile, emerging from a totalitarian dictatorship, the play explores the after-effects of repression on hearts and souls.
Paulina Escobar's husband Gerardo is to head an investigation into past human rights abuses.
A Dr. Miranda stops at the Escobar house to congratulate Gerardo. Paulina overhears them speaking and is convinced that Miranda supervised her prison torture sessions.
This play is a riveting intellectual and emotional tug of war that contains strong language and tackles adult themes.
| | |
| --- | --- |
| Directed By | Linda Hampson |
| Dates | 11 March 2015 to 14 March 2015 |
| Location | Compass Theatre, Ickenham, UB10 8PD |