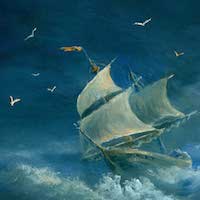 Anna Christie
By Eugene O'Neill
An intense drama about the conflict between Chris Christopherson, a barge captain, his daughter Anna, her lover Mat and another character whose influence is felt throughout the play - that old devil, the sea.
Famously filmed in 1930 starring Greta Garbo in her first speaking role, the story is set against the background of waterfront bars and dingy coastal ports - sharing its atmosphere with another O'Neill masterpiece, The Iceman Cometh.
If you have never seen the play you are in for a great theatrical experience. If you have, you'll be able to recommend it to others and enjoy it again yourself.
| | |
| --- | --- |
| Directed By | Michael Gerrard |
| Dates | 31 October 2012 to 03 November 2012 |
| Location | Compass Theatre, Ickenham, UB10 8PD |